About Our Team
Our experienced dance coaches
Our coaches are experienced social and competitive Ballroom Dancers who have a passion for what they do and want to share that passion with you in our dance classes. They have been trained by some of the countrys best coaches and have many years experience in taking dance classes for all abilities.
Our Coaches and Assistant Coaches all have Covid vaccinations, a current Police and Working with Children Clearance. In accordance with the NDIS Worker Screening transition rules many of our coaches also have their NDIS Worker Screener.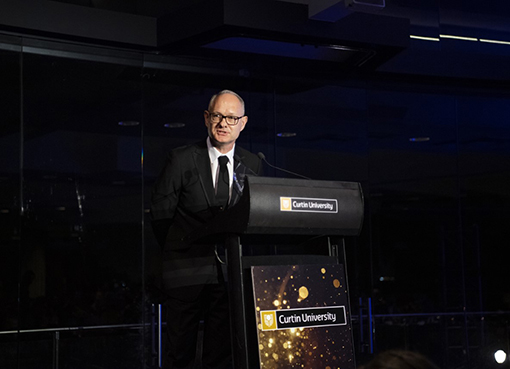 Darryl Davenport
Owner and Dance Coach 
Darryl started Ballroom Dancing when he was six years of age and has currently been teaching Ballroom Dancing for over 30 years. Darryl has vast experience teaching group and private lessons from beginners to advanced dancers. Darryl is a multiple State, Australian and New Zealand Professional DanceSport Champion and has coached multiple State and Australian Champions.
Darryl is registered with DanceSport Australia as a Professional Coach and Adjudicator. Darryl was instrumental in starting Perth's only same sex not-for-profit class, OUTdance in 2001 and has been coach of the Western Australian Masters Formation Team since commencing in 2014. Darryl has been recognised as a life member of both OUTdance and the Western Australian Masters Formation Team.
Darryl estabilished Para and Ability Dance WA in 2020, a not-for-profit association supporting dancers living with a disability.
Darryl has received the 2019 Curtin University Alumni Community Service Award and the 2021 the City of South Perth Australia Day Community Citizen of the Year Award for his service to the dance community in Perth. Darryl in 2021 was invited to be an Australia Day Ambassador.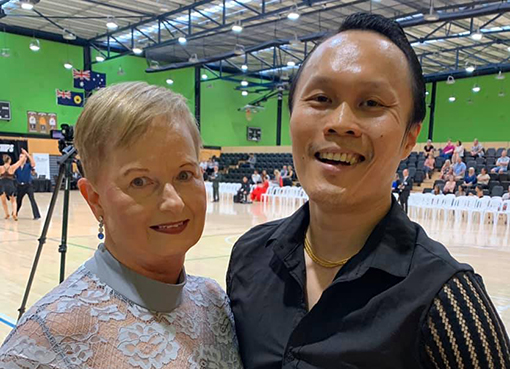 Dance Coach 
Caesar first commenced teaching in 2001 at and has many years experience as a DanceSport competitor at a state, national and international level, currently competing with his students in the Teacher Student category. Caesar's training includes Ballroom, New Vogue, Latin, Ballet, Contemporary, Freestyle Dancing and Gymnastics. He has his Latin DanceSport Coaching accreditation and is currently working towards his Ballroom Coaching accreditation.
Caesar is passionate about body movement, body form and the artistry of dance. His teaching style reflects this, adapting his dance training to Para Dance, Ability Dance and exercise dance classes. Caesar is a registered Professional Competitor and Coach with DanceSport Australia. Caesar has his Special Olympics 'Improving Sport for People with an Intellectual Disability', International Paralympic Committee 'Introduction to Paralympics' certificates and Australian Institute of Sport 'Community Coaching General Principles' certificates.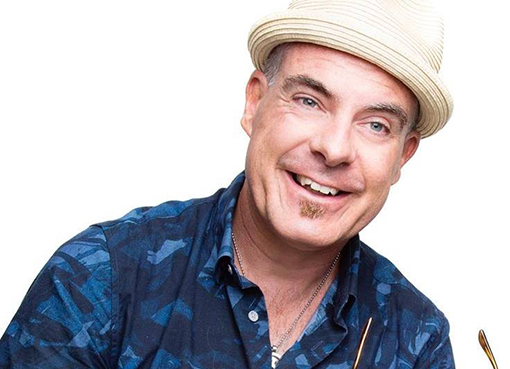 Dance Coach 
Ian took his first dance class when he was 7 years old as he fell in love with the music and good times his parents were having at weddings and socials. Ian's first dance he learnt was the waltz to Billy Ternent's version of "Souvenirs D'Italie", winning the lucky spot, so immediately he became hooked into ballroom dancing! When he was 12 years old he was requested to volunteer his time to assist in supporting children's classes under the guidance of Shirley Bickley at the Shirley Bickley School of Dancing in Fremantle WA. This continued with involvement in adult and senior classes. Ian remembers seeing teachers working in the classes on his first day and thought straight away "I would love to do that!" as teaching combined his passion for music, dancing and interaction with people of all backgrounds in a social environment. As he gained more experience, he realised the importance of balancing his enjoyment in encouraging others to participate in dance with equal amounts of dedication and commitment.  Six months before his 18th birthday , he was offered the opportunity of turning professional based on my developing knowledge of technique, experience as a student teacher and success in practical exams and as a competitor in Juvenile, Junior and Adult competitions.  Subsquently, he followed his dream and desire to commit to teaching dance more seriously.
Ian has had many career highlights.  He was the member of the Western Australian 1983 Junior Formation Team to win the annual Australian Championships in Melbourne and of the 1988 Adult Bi-Centennial Formation Team Championship in Brisbane Queensland. The 1999 Recipient of Dance Masters International Service Award. Recognised 40 Years continual service as a teacher with the Shirley Bickley School of Dancing. His proudest achievement however inspiring others to dance and in reaching their individual goals and potentials. That it, to enable students to engage and enjoy social dancing, to be the 'star' in the bridal waltz and debutant balls, or \\ advance towards developing technique for success in medal tests, competitions and theoretical exams. He has also  continued all the way to the highest levels in dance exams and teacher qualifications. Ian  is a professionally qualified  ballroom dance teacher and adjudicator in four styles of dancing, Modern Ballroom, Latin American, Australian New Vogue and English Old Time. He is  also a current examiner of medal tests and theory examinations with Dance Masters International Association Inc in all the above styles and at Fellowship level in the Latin American Branch. Ian is also a registered  Dancesport adjudicator and instructor in Standard, Latin American and New Vogue styles.
Ian lives by "We live to dance today not tomorrow!" He tries to ensure that after every lesson the student has enjoyed a relaxed session by gaining concepts, they have confidence to use on the dance floor from the word go. This involves breaking down key elements and providing details as simply as possible to ensure all can dance independently at the end of every class, even after the very first! His greatest passion and commitment as an instructor is always to inspire those with the "two left feet syndrome" in realising enjoyment in dancing, that it is easy and achievable in a fun relaxed social environment. Ians favoruite thing about Ballroom Fit is the integration of learning Ballroom Dancing in an environment that incorporates 'fitness' into the style of teaching dancing. Teaching over many years it is easy to get caught up in learning all the parts of dancing without clearly recognising dance as fitness, which is an integral part of why people participate in dance regardless of age, ability, or experience. Ballroom Fit is not only passionate about teacing others to dance but is committed to furthering a healthy community through exercise using dance. 
Other than ballroom dancing, Ian has  furthered his interest in facilitation and teaching by qualifying as a primary school classroom teacher and lecturer and have had experience teaching in educational settings with pre-primary, primary, high school and adults alike. My particular area of expertise is working with those with barriers and disengagement towards achieving learning objectives.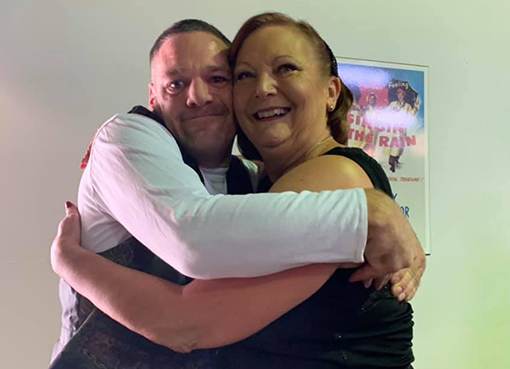 Dance Coach
 Jenny attended a dancing class at the Embassy Ballroom when she was a pre-schooler, taken along by her older sister, whcich didnt enjoy. However, she started bac up at 9 years old. She went back to Embassy Ballroom along with some friends and fell in love with it this time. Jenny did her first bronze medal with Del Kidd, but soon after was learning under the guidance of Marita & Keith Withers. she was always assisting in classes with Keith Withers, partnering new students or demonstrating from about 11 yrs old, which is when she first started competing. However it was after Keith & Marita returned to England when she was 17 that she changed coaches to Steve & Diane Clarke where she truly started getting involved in teaching, especially when they opened their own studio in Cannington.
Jenny has been blessed with many travel opportunities in dancing, however the biggest highlight is being in the first Australian Formation team to travel to Blackpool England & compete at Winter Gardens, both in the team & as couples, then later dancing at Albert Hall London in the mid 70s. At one stage her and her partner made the top 10 A Grade in Latin in Australia. She has attained all her technical awards up to & including all Star awards in Latin & Standard and apssed Grade 2 Latin American Theory.
Her favourite thing about Ballroom Fit is the inclusiveness of the Ballroom Fit environment. She had approached Darryl after watching a demonstration of the Para dancers & the Abilities dancers at a time she was looking for something to get involved in & able to give back somehow. Ballroom Fit's ideology of inclusiveness just resonated with her. Dancing is for everyone, every age and every level of ability. Jenny now teaches and assists in a wide range of classes, including the Visibility and Ballroom Fit classes, practice sessions with the Para Dancers & some Abilities individual lessons, all of which she love. Jenny's style of teaching is fun and relaxed, where she focuses on getting people moving to the music, learning the steps & having fun.
Although throughout her life Jenny had some long breaks from dancing, she always thought of herself as a dancer. Now if she could only get her husband to dance the world would be perfect!!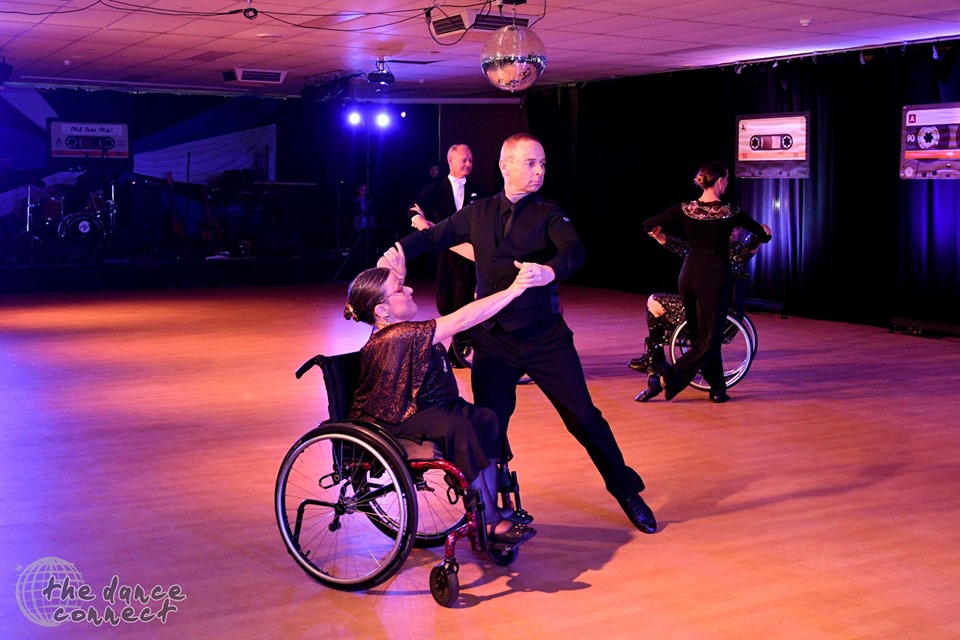 Chris Wood
Dance Coach
Chris started dancing at the age of 18, going to a social dance class with his brother.
Chris started competing in 1984 and quickly went through the ranks in Latin and Ballroom. One of his proudest moments was coming 3rd Ballroom at the New Zealand Nationals out of over 80 couples and winning a New Zealand National title in New Vogue in 1990.
In 2005 Chris turned professional and started teaching for Dance Club Canterbury, in Christchurch New Zealand as a full time teacher. He has gained his associate degrees while teaching at Dance Club Canterbury in both Ballroom and New Vogue.
Chris's teaching style is very caring and he will go at the pace of his student. He loves technique, so enjoys teaching good footwork. As well as dance, Chris practices Yoga daily and believes in good alignment for protecting the joints and body.
Chris loves to bring the joy of dancing to people who never dreamt they would be dancing.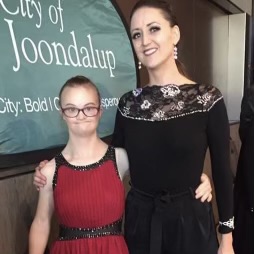 Laura Thorneloe 
 Dance Coach 
Laura started Ballroom dancing aged seven after watching Dirty Dancing on repeat – it remains her favourite movie of all time. 
In her very early 20's, after a five year hiatus from the sport, Laura began competing in local and interstate DanceSport competitions. Her most successful competitive partnership was with dancer partner Chais Lunde. They competed well at the WA Open DanceSport Championship and Australian Open DanceSport Championship.
Laura continued her love of dancing as a teacher in the Humphreys Dance Schools Program and teaching bridal couples at Humphreys Dance Studio until joining Ballroom Fit in 2018.
Laura is a proud member of the WA Para dancer team and continues to teach in our Ability Dance classes along with private lessons and bridal couples.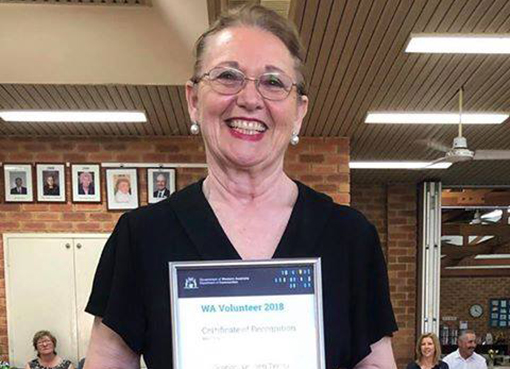 Eleonora De Pieri Tentori
Dance Coach 
Eleonora is a member of the Western Australian Masters Formation Team and is registered with DanceSport as a competitor. Over the years, she has had the pleasure of learning different styles of dancing including Modern, Latin and New Vogue. She encourages anyone to dance even if they have two left feet. Eleonora believes dancing is a great way to keep fit, lose wight, engage the mind, and develop memory and coordination. She has completed her International Paralympic Committe 'Introduction to Paralympics'. Australian Institute of Sport 'Community Coaching General Principles' and Special Olympics Australia 'Improving Sport for People with an intellectual disability' certificates.
Eleonora was awarded the Department of Communities 2018 Volunteer of the Year Award for her contribution to the Ballroom Fit programs.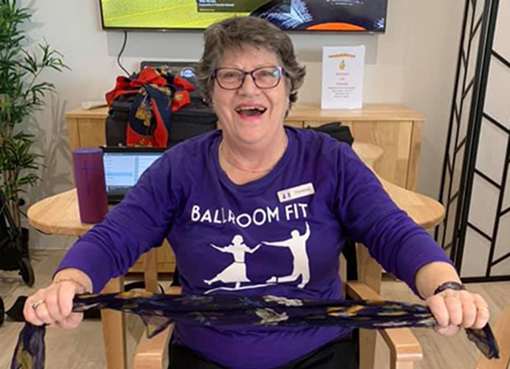 Florence Mellott
Dance Coach 
Florence started dancing in her early 40's and for twenty-odd years since then she hasn't stopped. Dancing is her number one passion!  Having gained a cluster of medals up to Gold level, Florence chose to study for a teaching Diploma (ADS Associate), under the skillful guidance of Mr Ron Barker – her Teacher and Mentor for more than a decade. 
Florence assisted Ron with a class for Special Needs dancers, in readiness for their Debutante Ball.  She also holds Certificate of Accreditation as a Level 1 Coach in Standard Ballroom Dancing. Florence has been a member of the Star Ballroom Formation Team. Florence is aware of the benefits of dance for all ages, and enjoys sharing her passion with young and old alike.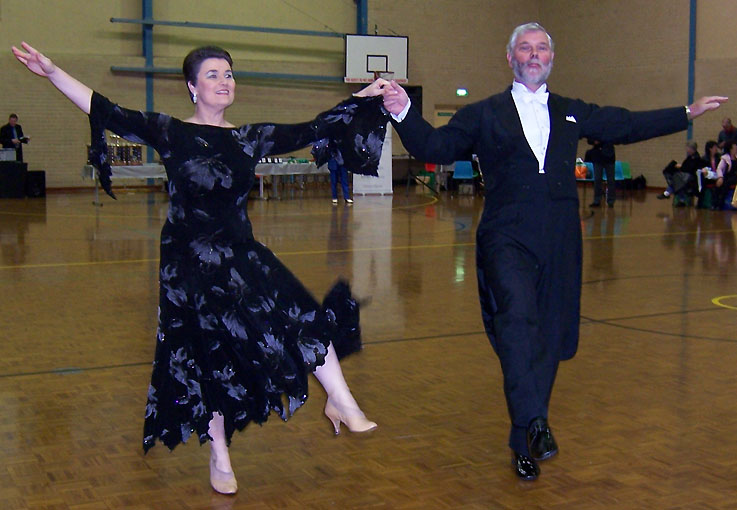 Dianne Van Der Poel
Dance Coach
Dianne was involved in a little ballroom dancing when she was around 9 years old. She loved it but moved away from the city so couldn't continue. She restarted when she was 21 and a friend had started having lessons. It was through this that she met Martin, now her husband. Dianne and Martin competed for many years together. They won the Masters II Open Ballroom at the WA Open, and have competed at several competitions in the East. Highlights were making the semi-final of a Masters Open 8-dance event in Sydney and placing in a B-grade Ballroom event in Canberra. They've enjoyed being members of the WA Masters Formation Team since 2014. For many years, Martin & herself competed as well as both of our sons. They were busy but fun times.  
Although Dianne has always been interested in teaching dancing, there was never the time until recently. She has been kindly assisting at some of the Ballroom Fit All Ability classes for 15 months now, and loving every second of it. She likes her students to enjoy the lessons, where she tries not to pick on too many things at once. Her favourite thing teaching at Ballroom Fit is working with Darryl and the all-abilities groups.  
Other than dancing, Dianne is a gamer – RPGs, board games, computer games!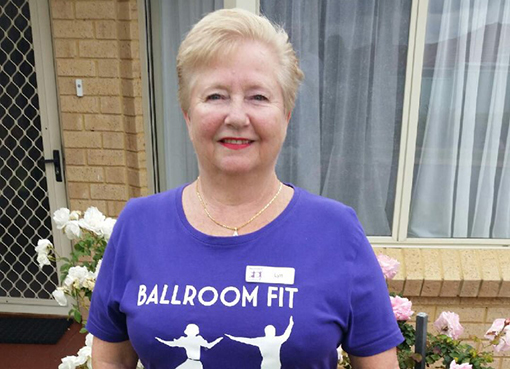 Lyn Boston
Dance Coach 
Lyn started ballet/tap dancing at three years of age and ballroom dance classes as a teenager. After many years of dancing, Lyn developed a love of synchronised swimming, competing in state and national championships where she won numerous medals. When aerobics became a popular exercise in the 1980's, Lyn had her own aerobics business and during this time started working with special needs groups. She branched into aqua aerobics, where she was the first person to start a dedicated aqua aerobics business registered as Splash Dance Aquarobics in Perth, operating at five pools in Perth for 14 years. Lyn continued to work with special needs clients during this time. 
Lyn worked as a teaching assitant, training at the Western Australian College of Advanced Education in Mt. Lawley, specialising in students with special needs. During her time in role, Lyn was involved with movement to music programs, where she is now one of our dedicated coaches in the Ability Dance and Chair Dancing classes.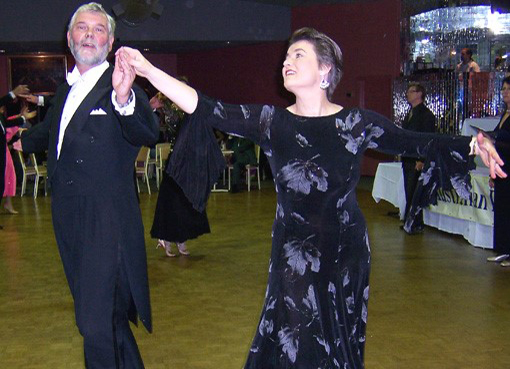 Martin Van Der Poel
Dance Partner
Martin started dancing at age 30. He went to a Wednesday night group class and hasn't stopped learning and dancing since. Martin is now 68 and still works full time, where he also manages to schedule in some 7 to 8 hours of dancing each week. During 17 years of competitive dancing in many competitions both in Australia and overseas (once in New Zealand), Martin's most memorable performances have been in front of senior citizens, being one himself it was a great feeling being able to entertain them.
Mid 2019, he started to help out at Ballroom Fit's Ability dance class. Very soon he enjoyed doing this so much that it became one of the highlights of his week. Early 2020 he was asked if he would be interested in partnering an All Abilities Lady dancer, where they have already accomplished so much together. What he loves most about Ballroom Fit is the positive attitude of all that attend, making practising so much fun.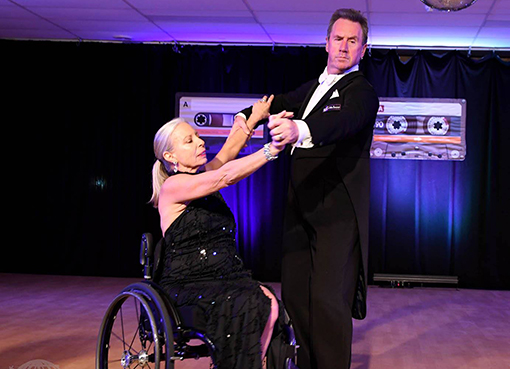 Leigh Campbell
Dance Coach 
Leigh's interest in Ballroom Dancing started when he worked as a barman at the Embassy Ballroom in 2007. Having made friends within the dancing community Leigh decided to start taking lessons himself in social dance classes. He then gave up being a barman to take-up his regular position on the dance floor. Leigh was dancing six nights a week when the Embassy Ballroom closed and realised the need for a social dancing website to link social dancers with venues. Leigh started a website www.perthballroomdancing.com.au which is popular with Western Australia's social dancers.
Leigh developed his dancing through a medal program at Humphreys Dance Studio. Having met his current wife who was a DanceSport competitor, Leigh was inspired to take the next step and started competing in DanceSport. Leigh has been in the Western Australian Masters Formation Team as a founding member and traveled extensively around Australia and New Zealand with the team. Leigh enjoys networking dances for dancers.
Jannette Barrett
Dance Coach 
Jannette started dancing at 17 years of age. After a few months of learning to dance she began competing in Sydney and assisted the teachers at social dances with the Cay School.
Jannette commenced dancing classes for friends after arriving in Perth in 1984. Her reputation spread and she was in demand, also being the beginner's instructor at Outdance for some years. Jannette gained her Teachers Accreditation in 2003
Jannette was a finalist at the Pan Pacific Latin and Ballroom competition in Brisbane many years ago. Her favorite trophy was won for Ballroom at a competition in Wollongong, NSW. There were many competitions in Sydney where she was usually successful.
As well as dancing Jannette enjoys public speaking and meditation.
Jannette finds teaching and volunteering for Ballroom Fit is a wonderful experience. She tells us she is learning so much about herself and is thoroughly enjoying meeting so many wonderful people and being around music on a regular basis.
Jannette feels blessed to have been offered the Cannington dance, a monthly chair dancing class and to volunteer at the Visibility dance.
Dancing and music bring joy to life.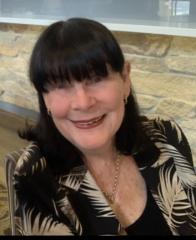 Fay Budd
Dance Coach 
Fay started dancing at 7 years old. Fay's mother and father were Ballroom dancers and she learned to Waltz with hermother in the kitchen of their home in Darkan.
Fay started lessons with Miss Penelope Kay in Sydney, where she was also invited to be part of an instructor's team fornew beginners.
One of Fays dancing highlights was dancing with the South Pacific Latin Champion (not his Latin partner).  Fay recalls it was Magic.
Mr. Ron Barker was Fay's couch and mentor for many years, where she did her formal learning.
Fay's teaching style I am very interactive and inclusive. Fay ensures every student receives personal attention.
Fay is working in a teaching role and is accredited with Worksafe WA to Train Health and Safety representatives. Faytrains Rio Tinto workers in Level 2 Risk Assessments, has the Certificate IV in TAE Diploma of Retail ManagementDiploma Frontline Management and is a high achiever who enjoys her work.
Fay has enjoyed her experiences with Ballroom Fit because, her style is interactive and very hands on. Fay loves tosee students achieve something, and feel proud of themselves, regardless of the magnitude of their achievement and recalls for some children, swaying from side to side was the limit of their ability, and for her that was 'beautiful'.
Fay worked with the Gladys Newton School for children with complex disabilities. In this role she worked for a week inthe school with the Physical Education Teacher and was exposed to almost every student/child in the school. Thecapabilities of the students were often affected by several complex health and mobility issues. Fay was still able towork with each individual and encourage them to achieve their 'best' and have fun in the class time.
Fay is looking forward to working with different demographics and is particularly interested in individuals recovering from a 'stroke.'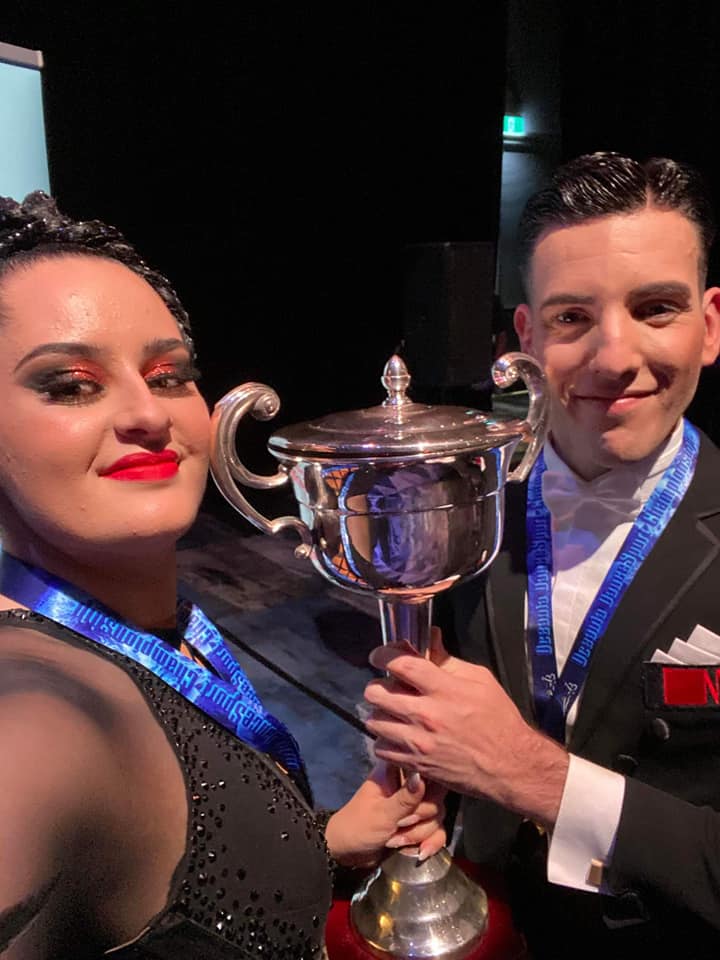 Simon Mills
Dance Coach 
Simon was 11 years old when he started Ballroom Dancing.
Simon's twin brother started Ballroom Dancing and Simon had to go watch his lesson before his football training. After a few months Simon got hooked to the music, started, and have never looked back! For Simon thecombination of physical exercise, artistic expression, competition, music, and the community make BallroomDancing the best activity!
Simon's career highlights include:
Competing:
2022 Oceania National Amateur Open Ballroom and New Vogue Champion
2022 Tasmanian National New Vogue Champion & Ballroom Champion
2022 2nd Place Amateur Open New Vogue & Ballroom Finalist at Australian DanceSport Championship
2022 2nd Place Night of Stars National Championships in Amateur Open Ballroom and New Vogue
2022 2nd Place WA Open in Amateur Open Ballroom and New Vogue
Previous State Champion & Champion at every WA competition
Coaching:
Coached Australian & State Champions in: – Vision Impaired, – All Abilities, – Para dance, – Recreational, – Amateur, In each age division: Junior, Youth, Adult, & Masters
Simon teaches using a systems theory framework. Starting from core principles that underly the fundamentals, andthen work to more specific rules relating to the structure, mechanics, musicality, and artistic expression of ballroomdancing. I am proud to share my knowledge that I have gained from my coaches and mentors, Darryl Davenport, Steven & Rachelle Grinbergs & Matt Rooke. Simon's teaching style is warm, friendly, inviting, and malleabledepending on the needs of the student. Simon aims is for his students to grow a love for dancing, develop, and bean active part in the dance community.
Simon has a Bachelor of Psychology Degree with Honours from Curtin University and has studied Biostatistics atpostgraduate level at University of Melbourne.
Simon enjoys seeing students find their love for dance, watching them improve and obtain their goals, and see themdevelop friendships with other dancers in Ballroom Fit