A Western Australian dance school offering tailored dance classes in:
The objective is to move to music and have fun using recognised Ballroom Dances. The routines are simple for all levels of participants, so you can enjoy the exercise and music. 
T
he instructors, like you, love to dance and share their joy and knowledge of Ballroom Dancing with you, tips and technique are included in the classes.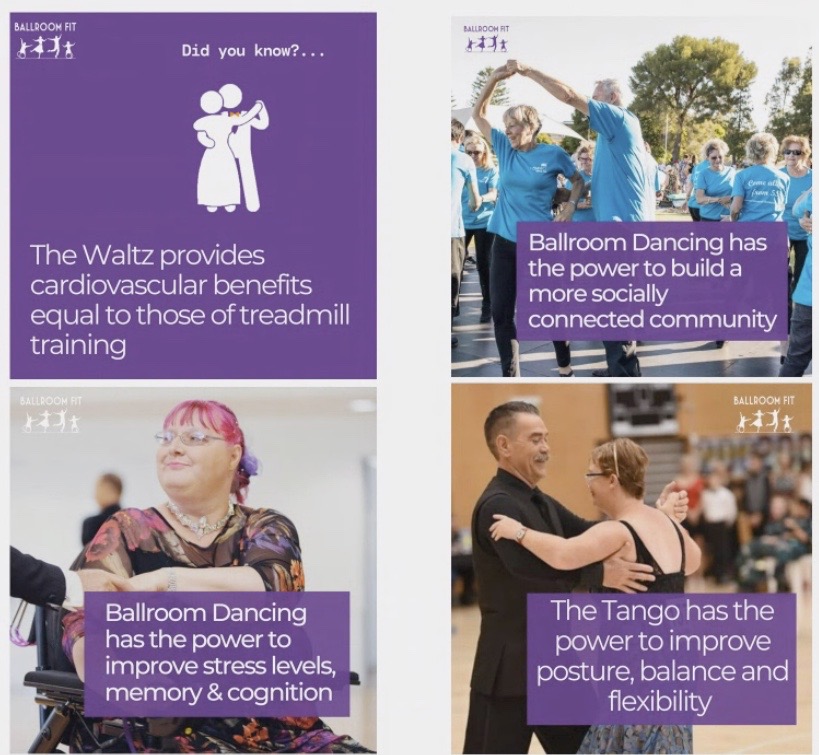 The Ballroom Fit Vision
To create a healthier and more inclusive world through dance.
The Ballroom Fit Mission
To provide a unique Ballroom Dance and Movement to music opportunity for seniors, and dancers with an intellectual and physical disability, to achieve their full potential, through dance.
The Ballroom Fit Values
We will:
Share the joy of dance and movement to music in a supportive setting

Celebrate cultural diversity within the community

Promote a supportive atmosphere of tolerance, respect, inclusion, sensitivity and fun

Act with integrity, sincerity, accountability and professionalism
Fab teachers, fab classes and fab music
Cathie Judkins
My favourite hour of the week
Deborah Bailey
I have been attending classes now for a month and just loving it. Friendly people, great music and a perfect rehab fitness for me. I can highly recommend it
Chris Constantine
Ballroom Fit is great fun. Have been going for ages and enjoy every minute. Great helpful teachers, friendly dancers and fun atmosphere. Anyone can learn to dance here, so easy. Come along it's good for the soul
Wayne Eves
A lot of great social fun and what better way to keep fit
Peter Davies
And don't forget, it also keeps your mind fit
Martin van der Pole
Ballroom Fit acknowledges Aboriginal and Torres Strait Islander people as the Traditional Custodians of the land and acknowledges and pays respect to their Elders, past and present. Ballroom Fit also supports diversity and inclusion in dance.