Para Dance Perth by Casey Ryan
Simply being able to be involved in something like wheelchair dancing or Para Dance can be difficult for people with physical disabilities, as classes are usually few and far between and engaging in these classes is daunting for most.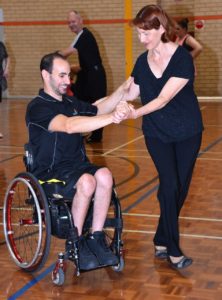 One individual who felt this way was Andrew Liddawi, cycling enthusiast and West Australian of the Year 2018 nominee who was left paralysed after a mountain biking accident in 2008. Since then Liddawi has founded Break the Boundary, a West Australian based charity promoting healthier and happier living through use of adaptive off-road cycles and enabling people of all abilities to engage in mountain biking.
More recently he has swapped the dirt track and rough-and-tumble of national wheelchair basketball for the dancefloor, which he considered "fun and frustrating at the same time".
"Dancesport is intense and it requires focus, persistence, patience, problem solving, physical and mental endurance, and forces me to go into uncharted territory."
Liddawi comes from a cultural and social background with a strong emphasis on music and dancing to connect with family and friends, but since his accident has been discouraged from partaking in any professional classes. "The more I tried to be a part of social dancing, the sadder it made me feel" he said of his previous attempts to dance since his accident.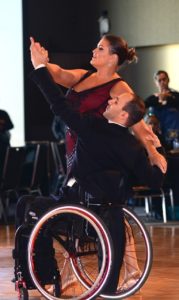 Para Dance has given him and others in his class a new outlook on their ability to "shake it like a polaroid picture", with the classes culminating in an appearance at the recent 2018 Night of Stars National Dance Sport Championship in Joondalup. The class performed the Cha Cha Cha and the Waltz in front of both their families and friends and professional dancers alike.
Of the experience, Liddawi said "I'd never felt so popular amongst a huge crowd… we rolled off the dance floor only to be welcomed with excitement and applause."
The performance struck a chord with the crowd, with "many people on the day and even more over social media telling of how emotional the performance made them feel."
Liddawi is enthusiastic for his future in Para Dance. "I want to explore new dances and continue to ask myself 'what else can I make this chair do?'".
Para Dance classes are being offered each Saturday by Ballroom Fit at the Manning Senior Citizens Centre, 12noon to 1pm. New dancers are welcome. Anyone interested should contact Ballroom Fit before attending.
Contact details: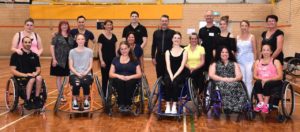 Phone: 0439 460 487
Email: info@ballroomfit.com.au
Website: www.ballroomfit.com.au/para-dance/
Pictures: Anna Di Vincenzo