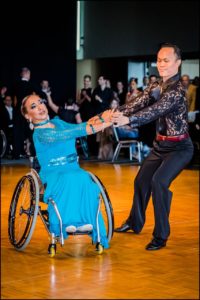 Wheelchair Dancing Perth by Casey Ryan
There is a brand-new program allowing wheelchair dancing Perth dancers to take part in DanceSport initiative, something until now not available in Western Australia. The program, called Para Dance, is run by Ballroom Fit in Manning and offers a new opportunity for both physical and social activity for wheelchair users.
Para Dance is an increasingly popular event at a professional level. The sport has been represented by the IPC (International Paralympic Committee) since 1998, with an inaugural appearance at the Asian Para Games in 2014. There has also been bids to add the sport to the 2024 Paris Paralympic Games and 2028 Los Angeles Paralympic Games.
In the Ballroom Fit Para Dance classes, an experienced dancer is partnered with a wheelchair user or wheelchair users dance together. Participants learn dances including the Cha Cha Cha, Jive, Rumba, Samba and Waltz under the expert guidance of qualified dance instructors. The classes also offer team dancing. It should be noted that this is a sport, and like any sport, Para Dance can be physically challenging and immensely rewarding.
Dancing is one of the best physical activities you can do, young or old. Particularly for wheelchair users. Dancing is associated with a myriad of physical benefits, including the maintenance of physical balance, flexibility, range of motion, coordination and improved respiratory control. Social dancing also benefits mental health. Regular social dancing can help ease stress, and a 2013 study even found social dancing to have mood boosting effects lasting up to eight months. On top of all that, participants also enjoy the social benefits of dance which include increased social communication and the building of relationships.
The students in the first set of these classes made an appearance at the 2018 Night of Stars National DanceSport Championship in Joondalup this June, invoking a highly emotional response from an awed crowd. Talking about the reception to their performance that night, Para Dance student Andrew Liddawi said, "after the performance the energy was ramped up and people were approaching us left, right and centre, praising us on our performance".
So, if you like the glitz and glamour of Ballroom Dancing, want to improve your physical and mental fitness in a creative and engaging way, or just simply meet new friends, Para Dance may be for you.
Para Dance classes are being offered each Saturday by Ballroom Fit at the Manning Senior Citizens Centre, 12 pm to 1pm. New dancers are welcome. Anyone interested should contact Ballroom Fit before attending. Contact details:
Phone: 0439 460 487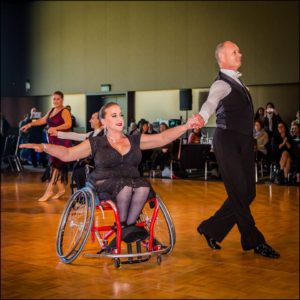 Email: info@ballroomfit.com.au
Website: www.ballroomfit.com.au/para-dance
Wheelchair dancing Perth Pictures: VC Photography