Para Dancing – not just a sport
By Andrew Liddawi
For those that know me personally, you know I love the rough and tumble of mountain biking. Nature brings its challenges and its beauty at the same time. It's intense, requires focus, persistence, patients, problem solving, physical and mental endurance, and forces me to go into uncharted territory.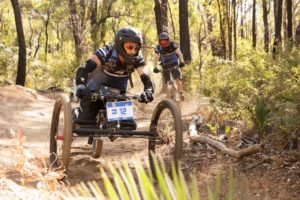 Over the last few weeks I've been doing all those things, not on my off-road handcycle, but rather on my every-day wheelchair and on a dance floor – queue the background music.
About 12 weeks ago, Rebound WA and DanceSport Western Australia held a come-n-try day for Para Dance. I took up the opportunity and dragged my partner down to see what it was all about. It proved to be fun and frustrating at the same time. I'm accustomed to dropping of dirt jumps and swerving between trees in the bush – so why would I get excited about dancing on a flat surface?
A walk down memory lane.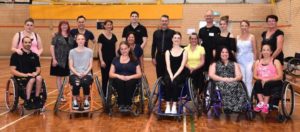 For those that really know me well, you'd know that dancing is a big part of middle-eastern culture. As young kids, we grew up getting our boogie on (once the parents physically dragged us onto the dance floor or whatever empty space there was at the party). Whether we were shaking it with a professional belly dancer, jumping around with swords and sticks, or on the side clapping and cheering with the booming Arabic music, we were all experiencing the energy of dance!
Fast forward a decade and the Arab kids were adults. This meant more parties and more dancing! By now we broke out of our shells and we were immersing ourselves in the dance experience and even dragging the parents onto the dance floor. We weren't fantastic dancers by any means, but we knew how to get a party started!
And then my accident happened in 2008.
Life stopped but the parties didn't stop for me, nor did I expect them to stop.
When life gives you lemons…
A year or so after being discharged from hospital I made several attempts at dancing, but the more I tried to be a part of social dancing, the sadder it made me feel. There I was, going to parties, barely able to get onto the dancefloor – barely interested in joining cheers of joy. The attempts I made felt empty and pointless – in some cases making me feel more disabled. I'd see friends take up dancing classes and I'd tell myself "it's no place for a wheelchair".
Up until this year, there was nowhere that I knew of, which taught wheelchair users how to dance.
I wanted to learn how to dance in a way that didn't make me feel sad and less-off than other dancers. I wanted to do something that I could take to the next party and shake – shake it like a polaroid picture. I wanted to re-experience and share the joy and excitement that would ooze out of my friends while they put holes in the dance floor.
… make lemonade.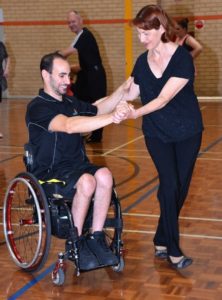 After about 12 lessons with Ballroom Fit (Darryl) and Empire Dance Club (Caesar) we learnt 2 dances; the cha-cha and a waltz.
The journey was… educational, to say the least. This was the first time in the state and potentially all of Australia where professional dance instructors attempted to adapt dancing for wheelchair users.
Lucky for us, the instructors were very accommodating and open to suggestions while throwing in some wacky ideas that defied the laws of wheelchair physics.
At first, learning the steps and routine was frustrating but with each lesson, we would kick little goals and both the teachers and volunteer partners would gain experience and confidence in the routine.
Along the journey I would remind myself of why I wanted to dance:
to learn with my partner and have a fun activity to share together.
to be creative and challenged physically.
to lead like a gentleman.
to do it in my everyday chair so that I can take dance with me anywhere I go!
We were learning our routine as part of a bigger number which would be combined with the children's routine.
The two groups didn't practice together but with the choreography wizardry of our lead instructors it all came together on the day of our big performance.
The main event.
On the 9th of June 2018, we had the opportunity to perform in front of hundreds of professional dancers and national champions.
To get to this point it wouldn't happen without the vision and determination of Judy Pegus (DanceSport WA). Having experienced for myself what it takes to get sports events happening for people with disability, I would think there was a lot of running around, meetings, research and many weeks of preparation to get the program up and running.
So, what was it like being surrounded by hundreds of overly-groomed men and women of all ages? Interesting enough, it was fairly comfortable. People didn't treat us any different to others. We didn't get the usual weird looks that I've encountered in public spaces. People just acknowledged us with a gentle smile and got on with their routines.
Still… we were all a little anxious and nervous.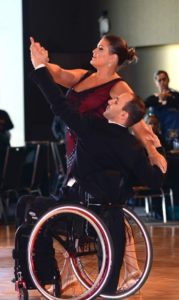 My partner and I didn't perform our best, but people probably couldn't tell and were simply happy and excited to see something new. Hearing my name cheered throughout the dance was a breath of fresh air that broke the inner tension of knowing that hundreds of people were looking at us and only us – I'd never felt so popular amongst a huge crowd (thanks Peter, Jim and whoever else was hooting out my name!).
After a presentation of trophy's (which we were definitely not expecting) we rolled off the dance floor only to be welcomed with applause from people all around – from elite dancers to event organisers.
After the performance the energy was ramped up and people were approaching us left, right and centre, praising us on our performance and just being all-round nice.
We had individuals, couples and competitors chat with us about dance and stuff in general. I realised that these high-calibre dancers are just normal people – they just know how to bust out awesome moves. I hope others see us in the same light.

The whole Para Dance team
Picture: VC Photography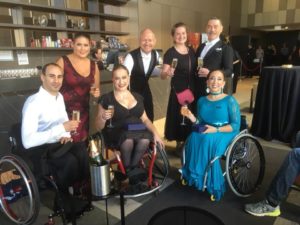 Celebrating after the Para Dance display